Caldarius

Character Info
Name:
Caldarius
Faction:
Jennerit Imperium Shock Troops
Stats
Health:
Power:
Range:
Speed:
Abilities
Normal 1:

TMP and Energy Blade

Normal 2:

J-HTX Assault Frame

Ability 1:

Gravitic Burst

Ability 2:

Flashbang

Ability 3:

Aerial Assault

Ability 4:

Gravitic Manipulators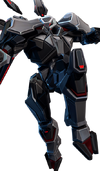 Caldarius is one of the Jennerit Imperium Heroes in Battleborn.
Bio
Caldarius won his name, fame, and eternal Sustainment in the Jennerit Fighting Pits. Armed in the jet-enhanced J-HTX Assault Frame armor of the Jennerit Shock troops, Caldarius is brutally efficient at hit and run close quarters fighting.
Abilities
| Ability Icon | Ability Name | Ability Info |
| --- | --- | --- |
| | TMP and Energy Blade | Caldarius' rapid-fire TMP and wrist-mounted energy blade are devastating weapons at closer ranges. |
| | J-HTX Assault Frame | Caldarius' formidable battle armor can be augmented for high mobility or maximized damage output. |
| | Gravitic Burst | Launches Caldarius forward, dealing 142-214 damage on impact. |
| | Flashbang | Fires a grenade that deals 70-94 damage and blinds enemies for 2s. |
| | Aerial Assault | Launches Caldarius into the air after 1s. Activate the skill again to land at a targeted location, dealing 200-425 damage. |
| | Gravitic Manipulators | Caldarius can activate his thrusters to jump a second time mid-air, in any direction. |
Helix System Progression
Character Videos
Character Images