Kleese
Character Info
Name
Kleese
Faction
Last Light Consortium
Characteristics

Territorial

Shielder

Complex

Abilities
Normal 1

Energy Rift

Normal 2

Energy Mortar

Ability 1

Black Hole

Ability 2

Tactical Battle Chair

Ability 3

Wrist Cannon and Shock Taser

Ability 4

Battlefield Tactician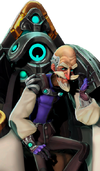 Kleese is one of the L.L.C. Heroes in Battleborn. The cantankerous Kleese, former director of Minion Robotics, hates getting his hands dirty – or getting out of his chair – to waste his time on some inferior being. So, of course he's going to design a hardened piece of plush, high-end "combat furniture" when he's forced to fight.
Bio
Following his dismissal as director of Minion Robotics, the cantankerous Kleese now serves as Nova's chief science officer and mad-scientist-in-residence. Abhors away missions but relishes opportunities to test his tech, such as his "Battle Throne".
Abilities
Helix System Progression
Character Videos
Character Images