Marquis

Character Info
Name:
Marquis
Faction:
L.L.C.
Stats
Health:
Power:
Range:
Speed:
Abilities
Normal 1:

Bindlebane

Normal 2:

Titanium Dandy MK VI

Ability 1:

Temporal Distortion

Ability 2:

Predatory Strike

Ability 3:

Bindleblast

Ability 4:

Ein, Zwei, Die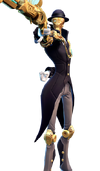 Marquis is one of the L.L.C. Heroes in Battleborn.
Bio
Marquis d'Caliber was once butler to Phoebe before an odd encounter with the LLC's AI leader, the Magna Carta, altered his personality. Now, this high-society sociopath wreaks havoc on the unwashed masses with his sniper cane Bindlebane and his explosively temperamental mechanical owl, Hoodini.
Abilities
| Ability Icon | Ability Name | Ability Info |
| --- | --- | --- |
| | Bindlebane | Marquis' signature collapsible sniper rifle, fit with a custom hilt pistol for close-range engagement. Heavily augmentable. |
| | Titanium Dandy MK VI | Marquis' relatively fragile chassis necessitates careful, strategic engagement with enemy Battleborn. |
| | Temporal Distortion | Alter the flow of time in a targeted area for 6 seconds, slowing all enemies who are inside of the time warp. |
| | Predatory Strike | Deploys Hoodini to a target location. Hoodini reveals nearby enemies on the map and collides with them, dealing 208-280 damage. Up to 3 owls can be active at once. |
| | Bindleblast | A powerful single shot that deals 525-750 damage, and increases its damage the longer it is in flight. Must be charged before firing. |
| | Ein, Zwei, Die | Rifle shots mark targets. The third shot on the same target adds 50% of your attack damage as bonus damage. |
Helix System Progression
Helix Name
Helix Level
Helix Name

The Great(er) Hoodind


Increases Predatory Strike damage. +15% Damage
Level 1

Waste Makes Haste


In addition to slowing enemies, Temporal Distortion now hastens allies. +30% Movement Speed for 4 seconds

Phaseflyer


Predatory Strike owls no longer collide with the world, guaranteeing a hit on target when activated.
Level 2

Hoodunnit


Predatory Strike owls on the battlefield are cloaked.

Ocular Enhancements


Fits Bindlebane with a variable-zoom scope. +50% Zoom Range
Level 3

Executive Barrel Porting


Reduces Bindlebane recoil. -60% Recoil

Time Killer


All enemies inside a Temporal Distortion bubble take damage over time. +28 Damage Per Second
Level 4

Big Time


Enlarges Temporal Distortion's area of effect. +25% Bubble Size

Efficiency Expert


Ein, Zwei, Die bonus damage is triggered on the second consecutive hit of a marked target, rather than the third
Level 5

Ein, Zwei, Cry


Increases Ein, Zwei, Die's bonus damage. +25% Bonus Damage

Long-Haul Hoodini


Increases Predatory Strike casting range. +30% Cast Distance
Level 6

Distance Time


Increases Temporal Distortion casting range. +30% Cast Distance

Bullet Banker


Increases Bindlebane's magazine size. +2 Clip Size
Level 7

Bang for the Buck


Increases Bindlebane's base damage. +18% Damage

Windfall


Upon detonation, Predatory Strike owls leave behind areas of effect that deal damage over time. +30 Damage Per Second
Level 8

Hoot of the Vigilant


Predatory Strike owls behave like sentries, and can fire on nearby enemies twice before detonation

Time to Spare


Increases the duration of Temporal Distortion's warp bubble. +2s Duration
Level 9

Cease and Decease


Intensifies the slowing effect of Temporal Distortion, further reducing enemy movement speed. +30% Slow

Bindleblast(s)


Bindleblast can fire twice after charging.
Level 10

Wallhax.exe


Bindleblast shots can now pierce world terrain to strike targets. Enemy Battleborn are highlighted in the scope.
Lore
To serve man
<Spoiler>..== ARCSHIP P.R.I.M.: HEMSWORTH MANUFACTURY
..== R&D REQUEST A.I.: TDVI.m-v#455 - "Titanium Dandy Mk.VI"
..== REQUEST FOR: BARTLEBY HEMSWORTH
Sentients and Artificiants -
It has long been the practice of our esteemed federation of labor to improve and employ crafted intelligences - Magnuses - for use in oversight, maintenance, and management of many of our operations and enterprises.
I, G.R. Bartlesby Hemsworth, Hereby formally request an adaptation of the "Magnus" prototype for smaller scale deployment.
Yes, its true that sophisticated artificial intelligences have walked among us for hundreds of years. With the Magnuses, we have connected those intelligences back to our greatest accomplishment as an Arcfleet - the Magna Carta - who now serves as our central agent of governance and economic oversight.
Now imagine Magnuses, each of them connected uniquely to the Magna Carta as is their mark of distinction, able to apply that connectedness to daily life within the fleet.
They could be far more than simple coordinators of trade compacts and fleet movements. They could provide personal financial assistance, Aid in research. Protect our families. Perform some act of maintenance and schedule keeping. And yes... even provide companions for us and our children!
I dub this line of personalized Magnus the "Marquis", and I wish to advance immediately to prototyping, the result of which will be tested within the Hemsworth family Arcship
Please conform to the physical specifications of the "Titanium Dandy" line of automatons. I believe this new "magnus" version will put the model series number at "VI".
A final note - please assure the Magnus personality matrix selected represents the Hemsworth ideals of wealth, sound financial planning, and integration in to the highest tiers of our society, I would also consider it a personal boon should the "Marquis" also be skilled in marksmanship, as I do enjoy the occasional hunt.
Sincerely,
G.R. Bartlesby Hemsworth II </spoiler>
Character Videos
Character Images