Montana
Montana

Character Info
Name:
Montana
Faction:
Peace Keepers
Stats
Health:
Power:
Range:
Speed:
Abilities
Normal 1:
Montana's Minigun
Normal 2:
Hearty Constitution
Ability 1:
Lumberjack Dash
Ability 2:
Hailstorm
Ability 3:
Mansformation
Ability 4:
Heatwave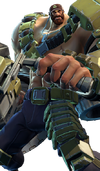 Montana is one of the Peace Keepers Heroes in Battleborn.
Bio
When he's not clotheslining bears for fun, Montana can be found on the battlefield, soaking up industrial-sized buckets of hurt and suppressing enemies with his fearsome minigun. A friend to everyone, Montana controls the Battlefield with sprays of ice or fire, and sometimes just a good old fashioned knock-the-tree-down-with-my-shoulder dash.
Abilities
| Ability Icon | Ability Name | Ability Info |
| --- | --- | --- |
| | Montana's Minigun | A truly fearsome weapon, the Minigun accumulates heat as it fires, increasing bonus damage dealt. Augments can increase or modify this effect. |
| | Hearty Constitution | Montana's remarkable size allows him to soak up a substantial amount of damage. |
| | Lumberjack Dash | Montana dashes and collides with an enemy, dealing 208-280 damage and knocking them back. If the hit enemy hits an object or ally, they are stunned for 1 second. |
| | Hailstorm | Loads a specialized ammunition that slows enemies hit and uses less heat per shot. Also adds armor that reduces damage taken. |
| | Mansformation | Stomp the ground, dealing 525-750 damage and knocking up nearby enemies. Montana takes reduced damage for 8 seconds after. |
| | Heatwave | The hotter Montana's minigun is, the more bonus damage it deals. |
Helix System Progression
Helix Name
Helix Level
Helix Name
Go the Distance
Increases Lumberjack Dash's dash distance. + 50% Dash Distance
Level 1
Weather Man
Increases Minigun accuracy while Hailstorm is active. +30% Accuracy
The Ol' One-Two
Montana knocks nearby enemies upward at the end of Lumberjack Dash.
Level 2
Push It Push It Push It
Increases the knockback effect of Lumberjack Dash.
Pumped Up
Increases Montana's maximum health. +250 Health
Level 3
Gatling Grease
Decreases Minigun spin-up time. -30% Spin-up Time
The Cooler
Minigun heat decreases with each shot fired while Hailstorm is active.
Level 4
Firestorm
Your bullets burn enemies, adding bonus damage over time. Increases Minigun heat accumulation per shot fired when Hailstorm is active. +24 Damage Per Second
Cold-Blooded
Montana's health regeneration rate increases the lower his Minigun heat is.
Level 5
Hot-Blooded
Montana's health regeneration rate increases the higher his Minigun heat is.
Swole Shield
Increases Montana's maximum shield strength. +195 Shield
Level 6
Feeling the Burn
Montana's Minigun no longer overheats. Every shot fired beyond maximum heat capacity damages Montana.
Icebreaker
Lumberjack Dash deals extra damage to enemies while Hailstorm is active. +25% Damage
Level 7
Ice Age
Increases Hailstorm's skill duration. +2 Seconds Duration
Too Big to Fail
Reduces the cooldown of Lumberjack Dash, allowing more frequent usage. -25% Cooldown
Level 8
Krackadowww!
Increases Lumberjack Dash's impact damage. +15% Damage
Bullet Buff
Intensifies Hailstorm's slowing effect, further reducing enemy movement speed. If Firestorm augment is active, its damage over time effects are lengthened.
Level 9
Perfect Storm
Increases weapon damage while Hailstorm is active. +14% Damage
Big Payback
Absorbs damage taken while Mansformation damage reduction is active. When Mansformation ends, an area of effect attack is unleashed after 3 seconds, returning absorbed damage to nearby enemies.
Level 10
Instant Payback
When Mansformation damage reduction is active, incoming enemy fire is reflected back at the attacker.
Character Videos
Character Images